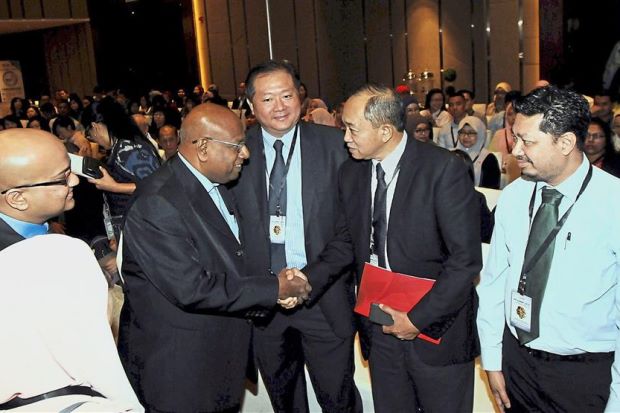 JOHOR BARU: Some Johor youths are complacent and lack drive in seeking employment, said state Consumerism, Human Resources and Unity Committee chairman Dr S. Ramakrishnan.
He said they were choosy about the kind of jobs they want unlike foreign workers and youths from other states who were going all out to seek employment in the state and progress in the chosen fields.
He said those living with their families, especially, were not in urgent need of a job and as such more choosy when it comes to seeking employment.
"They know they have families to depend on when it comes to financial matters," he said.
image: https://content.thestar.com.my/smg/settag/name=lotame/tags=
He said foreign workers and youths from outside Johor were taking advantage of the job opportunities in Iskandar Malaysia and south Johor brought on by economic growth and development.
Ramakrishnan said Iskandar Malaysia was second after Klang Valley in attracting talents, taking over from Penang which was previously in second place.
"Johor youths should not miss the boat as there are plenty of jobs for them out there. If they are choosy, then employers have no choice but to hire youths from other states or even foreigners to fill the positions," he said.
On another matter, Ramakrishnan said the state government would discuss with the Human Resources Ministry to revamp the existing syllabus at Industrial Training Institutes (ILP) in Johor.
He said the move was necessary as the current syllabus and machinery used in courses offered by the institutes to produce skilled workers were obsolete or outdated.
"How can we produce skilled workers if the syllabus is not tailored to keep up with changes in the industrial sector and needs of the industry," he said.
Ramakrishnan said apart from changes in the syllabus, students at the four ILP in the state would also undergo a one-month boot camp training at Kem Bina Semangat Sekakap, Mersing to prepare themselves physically and mentally.
Read more at https://www.thestar.com.my/metro/metro-news/2018/09/07/johor-youths-choosy-about-jobs-says-exco/#xcXXmf4Brltt7liy.99